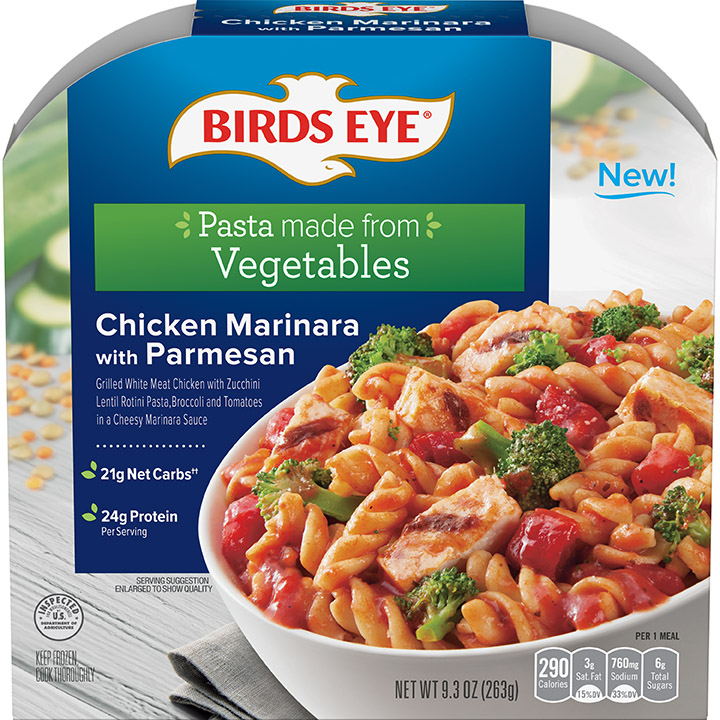 Birds Eye single serve bowls provide delicious and nutritious alternatives to your favorite frozen meals. Our Chicken Marinara blends grilled white meat chicken with zucchini lentil rotini pasta, broccoli and tomatoes in a cheesy marinara sauce.
✔ 24 grams of protein per serving
✔ 1/2 cup of vegetables per serving
✔ No artificial colors, flavors or preservatives
✔ Ready in under 5 minutes
---
---
Nutrition Facts
Servings per Container 1
Servings Size 1 meal
Amount per Serving
Calories 290 | Calories From Fat
% Daily Value *
Total Fat 8g 10%
Saturated Fat 3g 15%
Trans Fat 0g
Cholesterol 60mg 20%
Sodium 760mg 33%
Total Carbohydrates 27g 10%
Dietary Fiber 6g 21%
Total Sugars 6g
Protein 24g
Vitamin A 0%
Vitamin C 0%
Calcium 100%
Iron 2%
---
Our veggies contain no
artificial colors or artificial
flavors. They are simply
fresh vegetables, flash
frozen!
More Frozen Facts