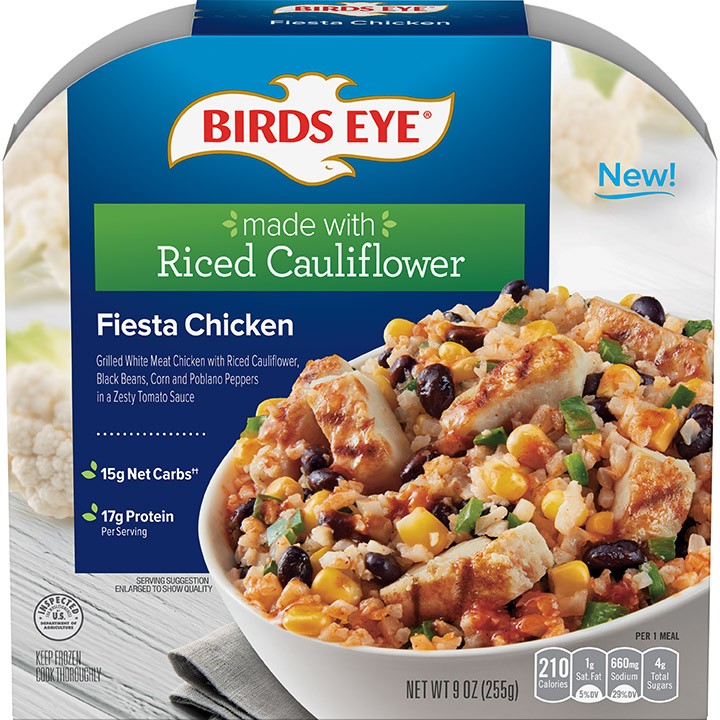 Birds Eye frozen single serve bowls provide delicious and nutritious options that fit a low-carb lifestyle. Our Fiesta Chicken combines grilled white meat chicken with riced cauliflower, black beans, corn and poblano peppers in a zesty tomato sauce.
✔ 17 g protein per serving
✔ 1/2 cup of vegetables per serving
✔ No artificial colors, flavors or preservatives
✔ Ready in under 5 minutes
---
---
Nutrition Facts
Servings per Container 1
Servings Size 1 meal
Amount per Serving
Calories 210 | Calories From Fat
% Daily Value *
Total Fat 6g 8%
Saturated Fat 1g 5%
Trans Fat 0g
Cholesterol 50mg 17%
Sodium 660mg 29%
Total Carbohydrates 22g 8%
Dietary Fiber 7g 25%
Total Sugars 4g
Protein 17g
Vitamin A 0%
Vitamin C 0%
Calcium 50%
Iron 3.3%
---
Birds Eye vegetables don't
contain preservatives. Cold
temperature preserves the
quality and nutrients.
More frozen facts