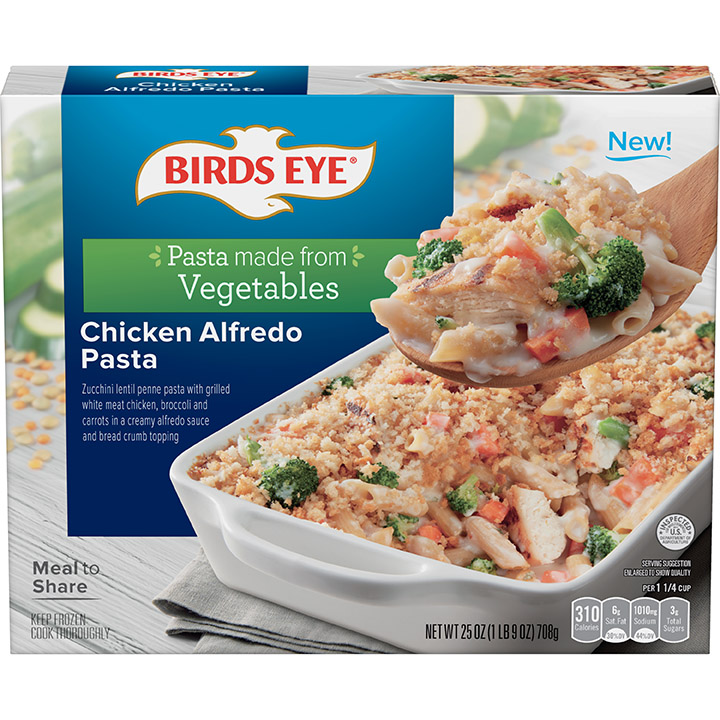 "Birds Eye® Meals to Share are vegetable-packed twists on your family's favorite meals. Made with premium ingredients, our Chicken Alfredo Pasta swaps out traditional pasta for pasta made from a blend of zucchini & lentils and combines it with grilled white meat chicken, broccoli and carrots. All finished in a creamy alfredo sauce and bread crumb topping.
✔ Pasta made from vegetables
✔ No artificial colors, flavors or preservatives
✔ Ready in about 10 minutes
---
---
Nutrition Facts
Servings per Container about 3
Servings Size 1.25 cups
Amount per Serving
Calories 310 | Calories From Fat
% Daily Value *
Total Fat 13g 17%
Saturated Fat 6g 30%
Trans Fat 0g
Cholesterol 55mg 18%
Sodium 1010mg 44%
Total Carbohydrates 27g 10%
Dietary Fiber 3g 11%
Total Sugars 3g
Protein 21g
Vitamin A 0%
Vitamin C 0%
Calcium 20%
Iron 10%
---
Birds Eye vegetables don't
contain preservatives. Cold
temperature preserves the
quality and nutrients.
More frozen facts