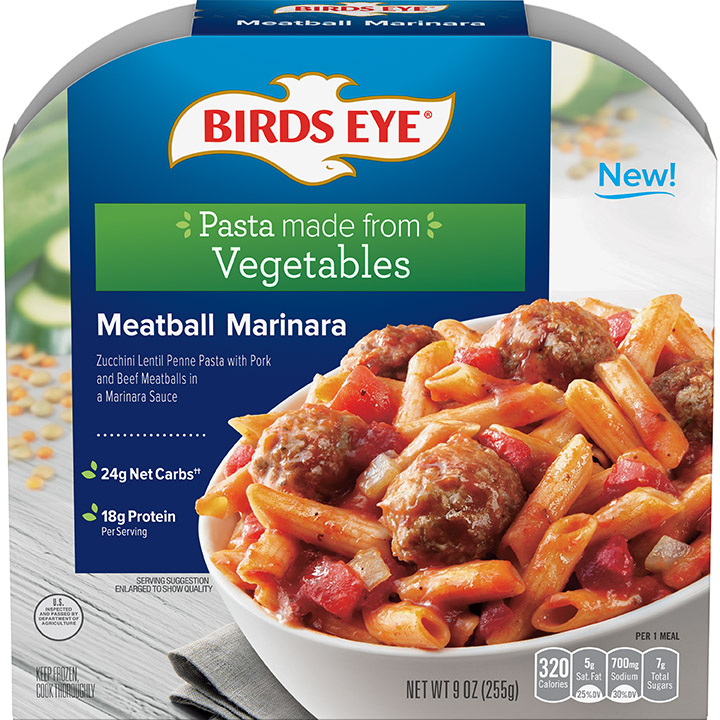 Birds Eye single serve bowls provide delicious and nutritious alternatives to your favorite frozen meals. Our Meatball Marinara combines zucchini lentil penne pasta with pork and beef meatballs and tops with a delicious marinara sauce.
✔ 18 grams of protein per serving
✔ 1/2 cup of vegetables per serving
✔ No artificial colors, flavors or preservatives
✔ Ready in under 5 minutes
---
---
Nutrition Facts
Servings per Container 1
Servings Size 1 meal
Amount per Serving
Calories 320 | Calories From Fat
% Daily Value *
Total Fat 14g 18%
Saturated Fat 5g 25%
Trans Fat 0g
Cholesterol 40mg 13%
Sodium 700mg 30%
Total Carbohydrates 31g 11%
Dietary Fiber 7g 25%
Total Sugars 7g
Protein 18g
Vitamin A 0%
Vitamin C 0%
Calcium 70%
Iron 2.6%
---
Our veggies contain no
artificial colors or artificial
flavors. They are simply
fresh vegetables, flash
frozen!
More Frozen Facts