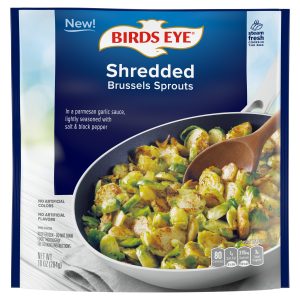 Made with shreds of brussels sprouts, parmesan, and garlic that is lightly seasoned with salt and black pepper, this flavorful vegetable dish will elevate any recipe.  Cook in a skillet with your favorite ingredients or simply microwave in our Steamfresh microwaveable bag for a delicious addition to dinner any day of the week.
---
---
Nutrition Facts
Servings per Container
Servings Size
Amount per Serving
Calories | Calories From Fat
% Daily Value *
Total Fat g %
Saturated Fat g %
Trans Fat g
Cholesterol mg %
Sodium mg %
Total Carbohydrates g %
Dietary Fiber g %
Total Sugars g
Protein g
Vitamin A %
Vitamin C %
Calcium %
Iron %
---
Birds Eye vegetables don't
contain preservatives. Cold
temperature preserves the
quality and nutrients.
More frozen facts