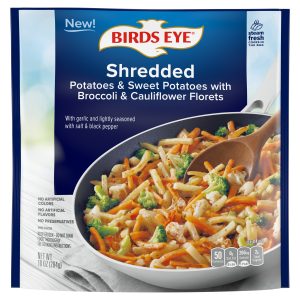 Made with shreds of sweet potato, potato, broccoli and cauliflower florets that are lightly seasoned with salt and black pepper, this flavorful vegetable dish will elevate any recipe. Whether you cook in a skillet with other favorite ingredients or simply microwave in our Steamfresh microwaveable bag, it's a delicious addition to dinner any day of the week.
---
---
Nutrition Facts
Servings per Container
Servings Size
Amount per Serving
Calories | Calories From Fat
% Daily Value *
Total Fat g %
Saturated Fat g %
Trans Fat g
Cholesterol mg %
Sodium mg %
Total Carbohydrates g %
Dietary Fiber g %
Total Sugars g
Protein g
Vitamin A %
Vitamin C %
Calcium %
Iron %
---
Our veggies contain no
artificial colors or artificial
flavors. They are simply
fresh vegetables, flash
frozen!
More Frozen Facts