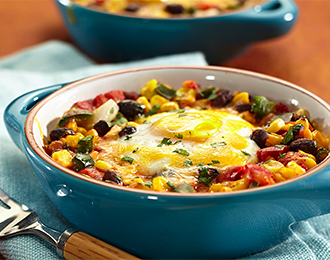 Baked Eggs In Southwestern Vegetable Cups
10 min prep
25 min cook
35 min total
6 servings
Ingredients
2 Tbsp. olive oil or butter
1 cup Birds Eye Fresh Frozen Select Vegetables Sweet Kernel Corn
1 can (14.5 oz.) diced tomatoes
1 cup black beans, rinsed and drained
1 small jalapeno pepper, seeded and diced (optional)
1/2 tsp. salt
1/8 tsp. ground black pepper
6 large eggs
6 Tbsp. shredded cheddar cheese
2 Tbsp. finely chopped cilantro or parsley (optional)
---
Directions
Preheat oven to 400°F. Lightly grease 6 (1 cup) ramekins. Arrange on a baking sheet.
Heat oil over medium-high heat in large nonstick skillet and cook corn, tomatoes, black beans and jalapeno pepper, stirring occasionally, 10 minutes or until mixture is thickened. Season with salt, pepper and half the cilantro.
Evenly arrange corn mixture in prepared dishes. Carefully crack eggs on top of vegetables and sprinkle each with 1 tablespoon cheese.
Bake 20 minutes or until eggs are set. Sprinkle with remaining cilantro. Serve warm, if desired, with hot pepper sauce.