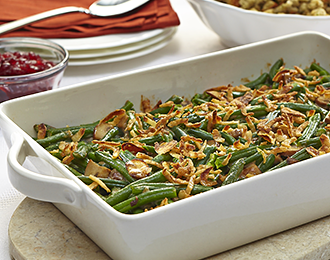 Birds Eye Scratch Green Bean Casserole
10 min prep
25 min cook
35 min total
8 to 10 servings
Ingredients
2 bags Birds Eye Steamfresh Whole Green Beans or Cut Green Beans, cooked according to package directions
3 Tbsp. butter or spread
1 cup sliced mushrooms
1/2 cup chopped onion
2 Tbsp. all-purpose flour
1 cup milk
1 tsp. salt
1/2 cup crispy fried onions
---
Directions
Preheat oven to 375°F. Arrange prepared Green Beans in lightly greased shallow baking dish or casserole.
Melt butter over medium heat in a medium saucepan and cook mushrooms and onion stirring occasionally, 5 minutes or until golden brown. Sprinkle with flour and cook, stirring constantly, 2 minutes or until golden brown. Slowly whisk in milk and bring to a boil over medium heat. Reduce heat to low and simmer, stirring constantly, 1 minute or until thickened. Season with salt and, if desired, ground black pepper.
Pour over green beans in prepared baking dish; toss to coat. Top with crispy onions.
Bake 15 minutes or until golden brown and bubbling.