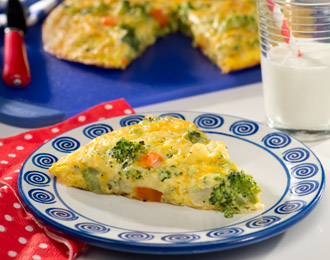 Breakfast For Dinner Veggie Pizza
10 min prep
15 min cook
25 min total
6 servings
Ingredients
1 bag Birds Eye Steamfresh Mixtures Broccoli, Cauliflower & Carrots, cooked according to package directions
6 eggs
1/2 cup milk or water
1-1/2 cups shredded cheese, divided (cheddar, mozzarella, swiss and/or Mexican blend)
---
Directions
Lightly spray a large nonstick skillet with cooking spray.
Beat eggs with water in medium bowl; stir in prepared Vegetables and 1 cup cheese. Season, if desired, with salt and ground black pepper.
Heat prepared skillet over medium-high heat heat and add egg & vegetable mixture. Stir to distribute vegetables evenly. Reduce heat to low and cover. Cook 10 minutes or until eggs are almost set (do not stir). Sprinkle with remaining cheese and continue cooking until cheese is melted and eggs are completely set.
Slide onto cutting board and slice into wedges.