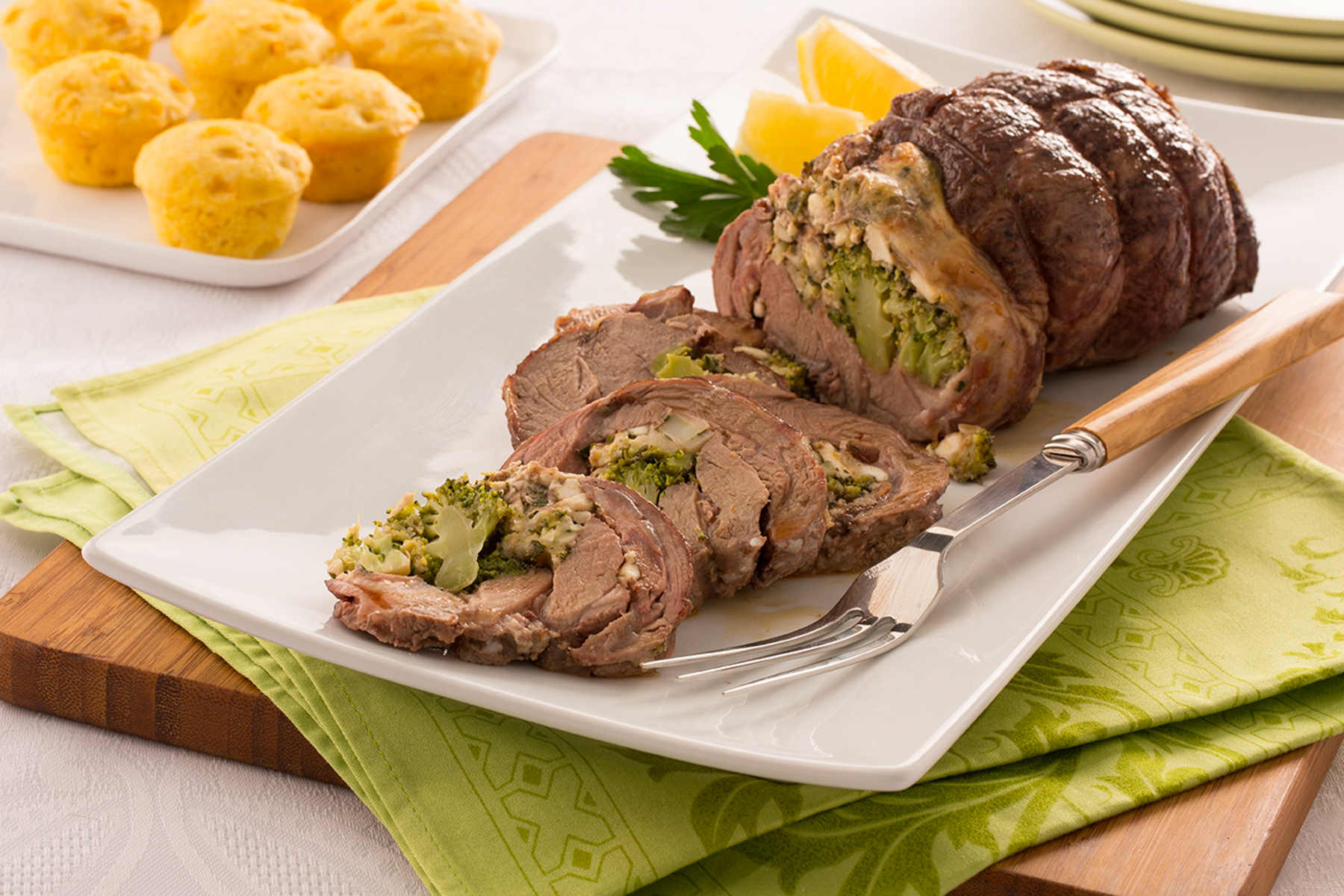 Broccoli & Feta Stuffed Leg of Lamb
20 min prep
75 min cook
95 min total
8 to 10 servings
Ingredients
1 (4-5 lb.) boneless leg of lamb
1 bag (12.6 oz.) 

Birds Eye Deluxe Baby Vegetables Baby Broccoli Florets

, cooked according to package directions; chop large pieces*
3/4 cup crumbled Feta cheese
3/4 cup fresh bread crumbs
2 tsp. grated lemon peel
2 Tbsp. finely chopped parsley
2 cloves garlic, finely chopped
1 tsp. salt, divided
1/2 tsp. freshly ground black pepper
Olive oil
Kitchen Twine
---
Directions
Preheat oven to 375°F. Unroll lamb and arrange on flat surface. Trim excess fat. Cover with a sheet of plastic wrap and pound evenly with a meat pounder.
Combine prepared Baby Broccoli Florets, feta cheese, bread crumbs, garlic, lemon peel, parsley, ½ teaspoon salt and ¼ teaspoon black pepper in a large bowl.
Press broccoli mixture down center of the lamb. Starting from the long end, roll up the lamb and form into a compact roll. Using kitchen twine, secure the roll at 2-inch intervals along the length, and then tie lengthwise to help retain shape. Brush generously with olive and season with remaining salt and pepper.
Arrange in shallow roasting pan and roast 1 hour 15 minutes or until food thermometer registers 145°F. Allow lamb to rest covered at least 3 minutes.
To serve, remove twine and thinly slice.