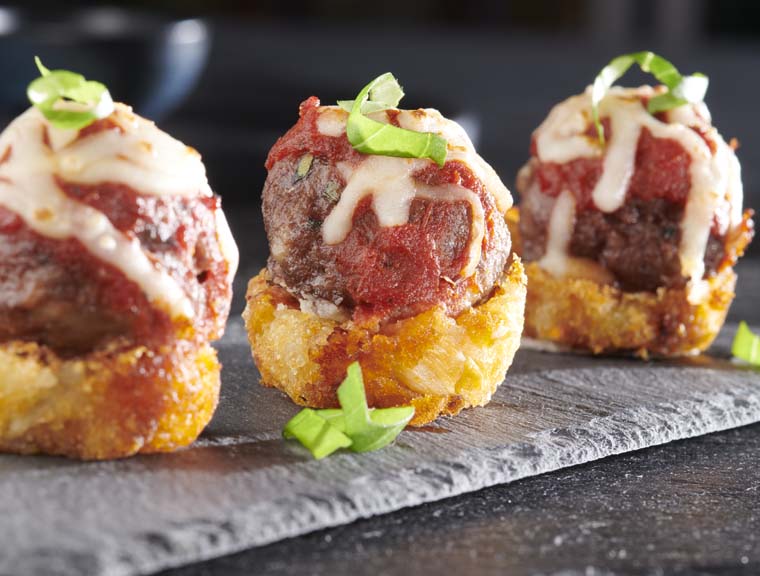 Mini Meatball Parmesan Bites
20 min prep
15 min cook
35 min total
24 bites servings
Ingredients
1 bag Birds Eye® Veggie Made™ Cauliflower or Broccoli Tots, cooked according to package directions
1 lb. ground beef
1/3 cup dry seasoned bread crumbs
¼ cup plus 2 Tbsp. grated parmesan cheese
¼ cup finely chopped basil leaves, divided
1 egg
¼ tsp. salt
1/8 tsp. ground black pepper
1 Tbsp. olive oil
1 cup marinara sauce
½ cup shredded mozzarella cheese
---
Directions
Preheat oven to 375°F. Lightly spray mini muffin pans.
While Veggie Tots are cooking, blend ground beef, breadcrumbs, 2 tablespoons parmesan cheese, 2 tablespoon basil, salt and pepper in medium bowl. Form into 24 meatballs.
Heat oil in large nonstick skillet and brown meatballs in batches. Add marinara sauce and simmer 10 minutes or until meatballs are cooked through.
Place 1 cooked tot in each cup and smash to form a crust. Evenly sprinkle each with remaining Parmesan cheese.
Arrange 1 meatball in each cup, drizzle with marinara sauce and evenly top with mozzarella cheese.
Bake 15 minutes or until cheese is melted. Sprinkle with remaining basil. Serve, if desired, with additional marinara sauce.