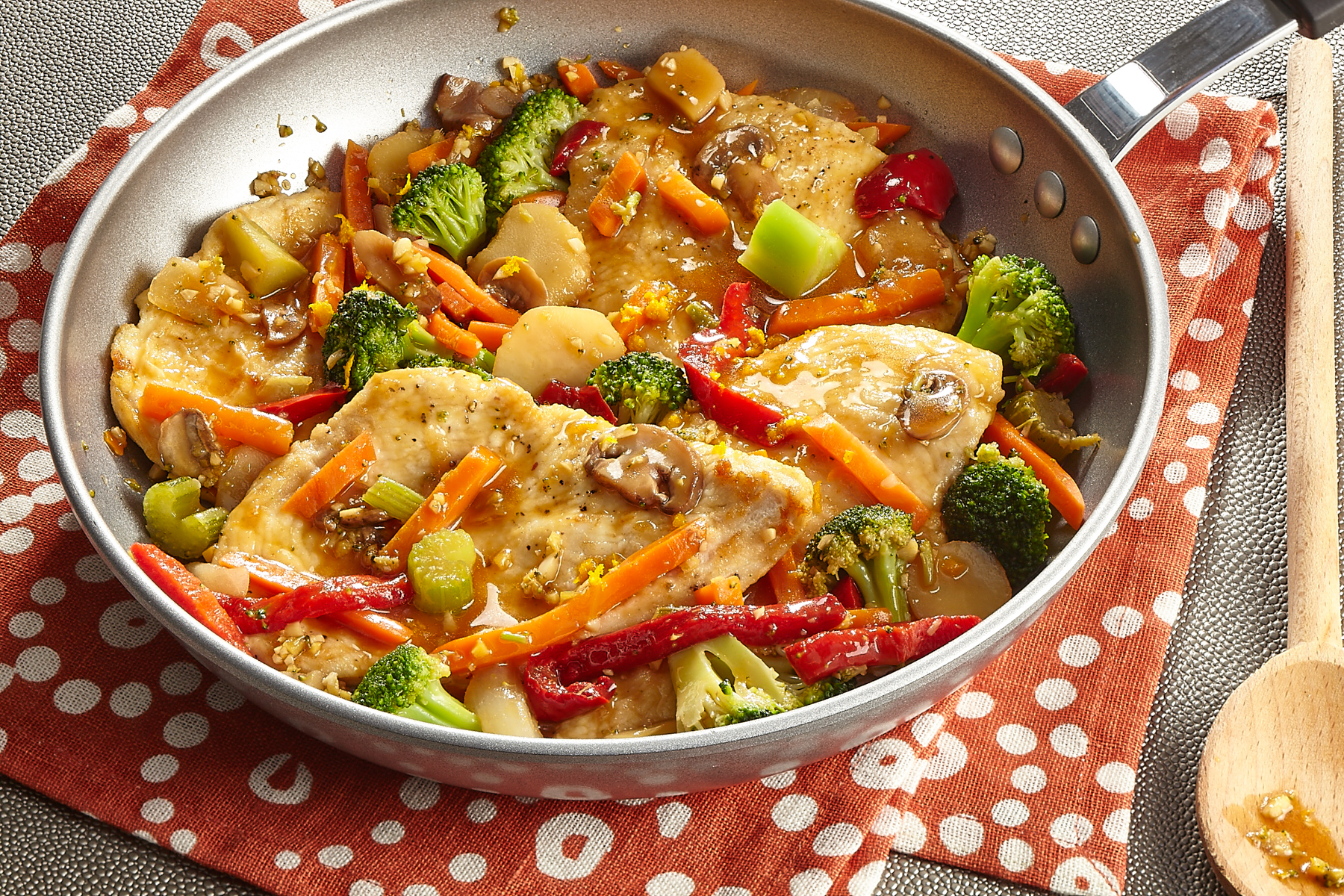 Pan-Sauteed Orange Chicken with Broccoli
25 min prep
25 min cook
50 min total
4 servings
Ingredients
1 orange juiced and zested (about 2 tsp. zest and 1/3 cup juice)
1/4 cup soy sauce
1 tsp. cornstarch
1 lb. thin sliced chicken breast
salt and ground black pepper
All-purpose flour, for dredging
2 Tbsp. olive oil
1 bag Birds Eye Recipe Ready Broccoli Stir Fry
3 cloves garlic, minced
2 tsp. minced ginger
1-1/4 cups low sodium chicken stock or broth
2 Tbsp. rice wine vinegar
---
Directions
Blend orange juice, soy sauce and corn starch in a small bowl; set aside.
Season the chicken with salt and pepper and dredge lightly in flour.
Heat oil over medium-high heat and cook chicken 10 minutes, turning once or until chicken is cooked through. Remove from skillet and keep warm.
In same skillet add Broccoli Stir Fry and cook, stirring occasionally, 5 minutes or until vegetables are crisp-tender. Add garlic and ginger and cook 1 to 2 minutes or until just fragrant. Stir in orange juice mixture, orange zest, chicken stock and rice wine vinegar. Cook, stirring occasionally, 3 minutes or until sauce is bubbly and starts to thicken.
Add chicken back to pan and let flavors marry 1 to 2 minutes.
Sprinkle with cilantro.