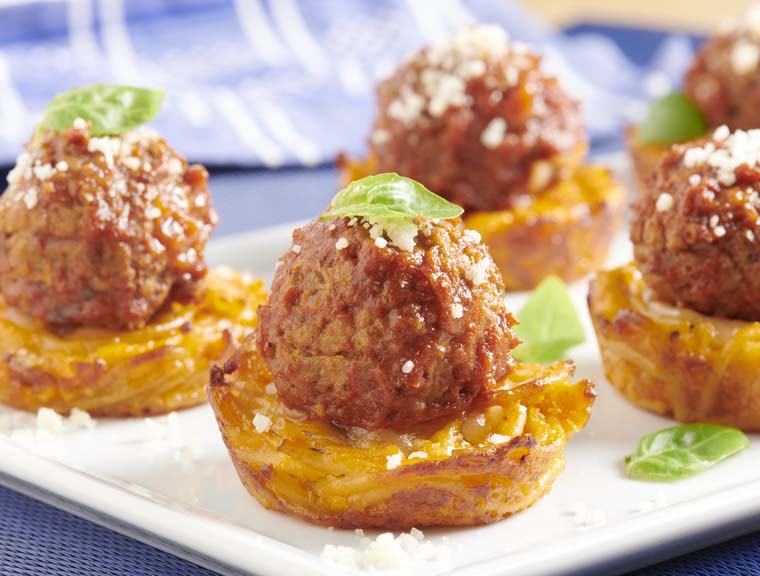 Spaghetti & Meatball Cupcakes
10 min prep
15 min cook
25 min total
12 servings
Ingredients
1 bag Birds Eye® Veggie Made™ Spaghetti Marinara, cooked according to package directions
1 package precooked Italian- style meatballs, heated according to package directions (about 12 meatballs)*
2 eggs
1 1/2 cups shredded mozzarella cheese
1/4 plus cup plus 2 Tbsp. grated parmesan cheese
Finely chopped basil leaves
---
Directions
 Preheat oven to 375°F. Lightly grease a 12-cup muffin pan.
In large bowl combine cooked spaghetti, eggs, 1 cup mozzarella cheese and ¼ cup parmesan cheese. Evenly nest spaghetti mixture inside prepared muffin cups. Using the bottom of a small glass, firmly press down to create a well.
Bake 15 minutes or until set. (If nests pop up, press down with glass again while still warm.
Sprinkle nests with remaining mozzarella cheese. Arrange hot meatballs in nests. Drizzle with remaining marinara sauce from heating meatballs and sprinkle with remaining parmesan cheese and basil.
*Heat meatballs in your favorite marinara sauce