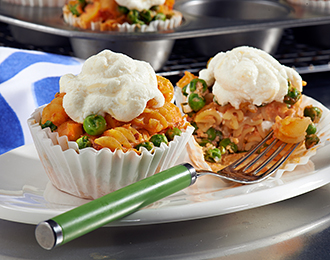 Baked Ziti Cupcakes
10 min prep
25 min cook
35 min total
Makes 12 Cupcakes servings
Ingredients
1 bag Birds Eye Steamfresh Selects Sweet Peas, cooked according to package directions
2-1/2 cups part skim ricotta cheese, divided
1 cup part skim shredded mozzarella cheese, divided
1/4 cup grated parmesan cheese, divided
1 egg
1 cup marinara sauce
8 oz. rotelle or penne, cooked according to package directions
12 cupcake liners, (optional)
---
Directions
Preheat oven to 350°F.  Line 12-cup muffin pan with liners.
Combine 1-1/2 cups ricotta cheese, ¾ cup mozzarella cheese, 2 Tbsp. parmesan cheese, egg, and marinara sauce in large bowl. Fold in prepared peas and pasta.
Generously fill pan with pasta mixture.
Bake 20 minutes or until almost heated through.
Meanwhile, combine remaining ricotta, mozzarella and parmesan cheeses. Evenly top each cupcake with cheese "frosting" mixture.
Broil an additional 2 to 3 minutes, until the "frosting" heats through.